I have been using the Manfrotto Befree GT Carbon for 6 months. Find out what I think of the tripod in today's review!
Reasons for the change
I have been using the Manfrotto Befree for the last 6 years. It has really served me well and I can recommend it without reservation. I also wrote a review about the "normal" Befree.
How did it come to the change? I wanted a larger tripod. I am 198 cm tall. When I set up the Befree normally and rarely use the center column for stability, the camera is at about belly height for me. For many situations, this is perfectly adequate, especially since I often prefer rather low camera positions.
However, there were always moments when I wished for a higher working height. But the new tripod should not be much heavier than the previous Befree. Is that possible? Voilà – the Manfrotto Befree GT Carbon.
Product data
Here is a brief overview of the most important product data directly from the manufacturer:
Item number: MKBFRTC4GT-BH
Type: Tripod
Leg material: Carbon
Maximum load: 10 kg
Minimum height: 43 cm
Maximum height center column top: 162 cm
Maximum height center column bottom: 138 cm
Leg segments: 4
Closure of legs: Twist lock
Supplied head: Manfrotto 496
Tripod plate: Manfrotto 200 PL Pro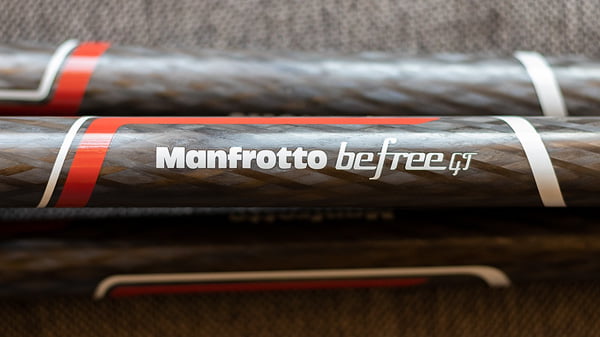 Size and weight
I have not used a carbon tripod yet. The reason was always that I found it too expensive. If I ever damage the tripod while shooting, I wanted to be able to replace it quickly. Now, however, I have not had a tripod damaged in the last 15 years. It's also hard to find a larger tripod that isn't too heavy without looking towards carbon.
The regular Befree weighs 1.4 kg, while the Befree GT Carbon weighs 1.55 kg. So that's only minimally heavier. In return, the GT Carbon is 18 cm taller. Exactly what I need for my height. By the way, it was also used in my Sony A7 III review.
Stability
For my feeling, the Manfrotto Befree GT Carbon is more stable than my previous Manfrotto Befree. This may also be due to the fact that carbon is generally more torsion-resistant. In any case, I can now shoot longer exposure times up to wind force 6 without the image blurring.
More info – What to look for in a tripod: The Ultimate Tripod Guide
Head
The Manfrotto Befree GT Carbon brings with it the tried and true Manfrotto 496 ball head. This offers friction control and a pan lock. I have used almost the same head before on a Manfrotto 055 when shooting my Dark Monuments series. It works flawlessly and the operation is absolutely well thought out. I don't feel the need to use a different head. However, the head is not fixed so it can be replaced if needed.
Angle of the legs
The legs of the Befree GT Carbon can be set at three angles (22°, 54°, 89°). This is especially interesting for lower camera positions. Macro photographers benefit here especially. However, I also use the angle of attack in landscape photography every now and then when it is very windy. Then the tripod feels a bit more stable. In addition, there are shooting situations in nature in which I raise a single leg higher because the ground does not allow it any other way.
Leg locks
A twist lock is used to lock the leg extensions. I have always used clamp locks in the past, but basically have no preference. I find both systems work well, you just have to get used to them. With the clamp lock, it can of course happen that you jam your fingers on it. This does not happen with the twist lock.
The closures of the GT Carbon work well, here I had no problems during the entire use so far.
Center column
The center column is also carbon and can be locked in place with a twist lock. I usually shoot with the center column retracted because it provides more stability in windy conditions. However, if it is almost windless, there is nothing against using the Befree GT Carbon with the center column extended higher. It is designed to be sufficiently stable.
Feet
The feet are made of rubber and offer a certain profile. I have photographed with them so far on rock, sand and in streams. Again, there is nothing to complain about.
Pros and cons
An overview of the pros and cons:
Pros
Relatively light
Good working height
High stability
Different angles of the legs
Carbon feels more comfortable in winter than aluminum
High quality
Relatively small pack size
Good grip on different surfaces
Cons
Somewhat more expensive
Rubber pad in the tripod plate was a bit loose at the beginning, but now sits tightly
Conclusion of my Manfrotto Befree GT Carbon review
I am very happy with the Manfrotto Befree GT Carbon. For me, the switch was a good decision. The tripod is larger than my previous Befree, yet only minimally heavier. A big plus is the increased stability. I can now take long exposures even in wind force 5 and 6 without the image blurring.
I have been using this tripod for 6 months now and can recommend it without reservation. For me as a landscape photographer it is a very good choice. The price is of course higher than aluminum tripods. However, if you look at other carbon tripods, then you can already speak of a good price-performance ratio with the Befree GT Carbon.
Update 03/24/22: I am still shooting with this tripod. In the meantime, it has been used on many photo tours. It also had to survive more demanding conditions such as salt water, rain and snow. All this has worked out without any problems. I am still very satisfied with it.