I have been using the Manfrotto Befree for more than 5 years. So in a way, my review of this tripod is a long-term test.
How I came to the Befree
I've been taking pictures since 2005, and I've also been shooting with a tripod for most of that time. About 95% of the images in my portfolio were taken with a tripod. From 2006 to 2013, I was shooting with a Manfrotto 718B. It was a small travel tripod with a fixed tripod head.
Towards the end of 2013, after many intense tours, the 718B had had its day and I had to look for a new tripod. Around that time, the Manfrotto Befree was also fresh on the market.
Manfrotto Befree review
My requirements:
Lightweight(I hate lugging big loads!)
Compact
Stability acceptable for relatively light weight
Ball head
Good workmanship
Financially replaceable if it should break down
After much research, I ended up with a Manfrotto 190 and the Manfrotto Befree. Update from 12.09.17: In the meantime, I have tested many more tripods and have also written my own tripod review.
In terms of weight and stability, a carbon tripod would also have been conceivable. Such a tripod weighs about 20-30% less than an aluminum tripod, but costs five to six times as much.
Since weight is my top priority, I decided to go with the Manfrotto Befree.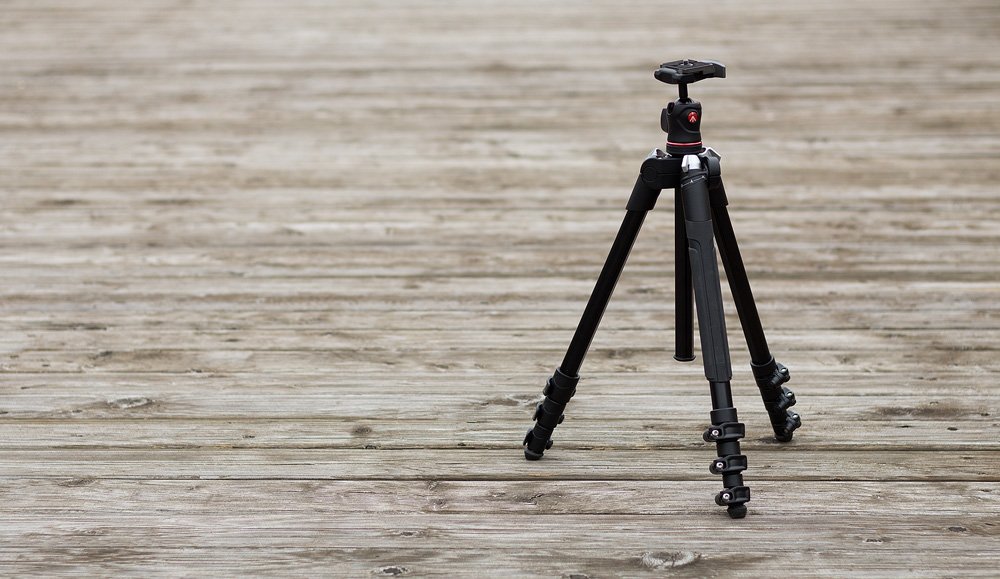 Key data
Material: Aluminum
Weight: 1.4 kg
Load capacity: 4 kg
Leg segments: 4
Maximum height: 144 cm
Minimum height: 32 cm
Packing size: 40 cm
Contents of the package
The travel tripod comes with a Manfrotto PL 200 quick release plate and a sturdy carrying bag. However, I have practically never used the bag because I always attach the tripod to my photo backpack. The quick-release plate can be attached to the camera by hand without any tools.
Features
When unpacking, the first thing you notice is that the included ball head is between the legs of the tripod when it's in the starting state. To keep the packing size as small as possible, the legs can be folded down 180 degrees.
One of the legs is rubber-covered at the top, so you can grip it without gloves in the winter without immediately freezing to it.
The included ball head is absolutely fine for my needs and can also be unscrewed if needed.
The legs of the Manfrotto Befree have clamp closures and 4 segments. Good feature: you can set the legs at two different angles. This is especially appealing for macro photographers who want to get close to the ground.
The Befree has rubber feet, which I haven't had any problems with on any surface.
My Manfrotto Befree review from 5 years ago
As described above, I've been using the Befree since late 2013, and in that time I've taken it on numerous tours.
The first thing I have to say is that I am extremely satisfied with this tripod. It is fully extended without center column stable up to about wind force 4. If you don't use all the leg segments, then wind force 5 is also conceivable. I often shoot from ground level. If I then use the steeper angle of the legs, wind force 6 is also no problem for the Befree.
The ball head still works flawlessly after more than 5 years. I have not had to relubricate and have no need to do so.
Still positive is the weight. The tripod weighs only 1.4 kg with the head. That makes it bearable even on longer tours.
The legs can be quickly extended and retracted. After photo tours in salt water or sand, I shower it off in the evening and let it dry overnight. So there are no problems at all here either.
A small tool from Manfrotto was also in the package, with which I tightened one leg a little after a year. Since then, however, the tool is in the closet, the screws hold well.
My conclusion
The Manfrotto Befree is a great travel tripod. I like the light weight and yet the good stability. I would buy this tripod again anytime. It has proven itself on numerous trip. An alternative is the Manfrotto Befree GT Carbon, which is a good idea for taller people. You can find my review of it here.