Want to capture high quality images for your blog and Instagram? Here are my top 3 recommendations for a blogger camera, also for Instagram influencers!
Below you'll find explanations on what you should look for when buying. If you don't want to read it all, you can find a quick overview here.
Background of my recommendations
I've been photographing mostly landscape and architecture for more than 15 years and write this blog. My recommendations are based on the cameras I've used during that time.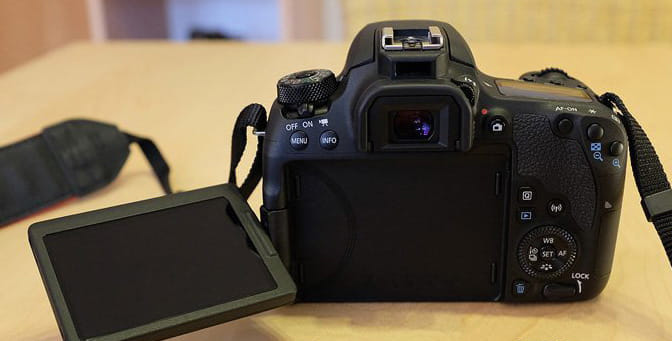 Blogger Camera – My Top 3 Recommendations
Below you will find my current recommendations for blogger cameras. I update this list regularly.
1st place: Canon EOS 250D
The Canon EOS 250D is one of the smallest and lightest SLR cameras on the market. This aspect makes it so good for bloggers. It still brings almost all the features and especially the image quality of a full-size SLR like the Canon EOS 800D.
It has a rotating and swiveling display, which is great for shooting from high or low angles. Of course, such a display is also a great relief for selfies. The kit comes with a good 18-55 mm lens, which delivers high image quality. It covers the wide-angle and a slight telephoto range.
Appropriate for Instagram: via connection with the cell phone, the photos can also be sent there directly and then uploaded in IG. The EOS 250D and also the kit lens are also suitable for videographers, because the motor of the lens is quiet and the video quality and modes are good.
For vlogging it's an advantage that the 250D's screen can be rotated so you can see yourself standing in front of the camera.
2nd place: Nikon D5600
If you have slightly larger hands and therefore prefer a normal-sized SLR, the Nikon D5600 is a good choice. Like the 250D, the display can be rotated and swiveled, but it's a bit larger again at 3.2 inches. At 415 grams, it is still pleasantly light for a full-grown DSLR.
The D5600 also comes with an image-stabilized 18-55 mm lens and delivers excellent image quality. The pictures can also be transferred to a cell phone via Bluetooth or WLAN. Similar to Canon, the lens range is very large for later expansion of your own equipment.
The D5600 also allows you to rotate the display for vlogging so that you can see yourself in front of the camera.
3rd place: Sony Alpha 6000
The Sony Alpha 6000 has been a very popular system camera since its release. It is the lightest and smallest camera among my recommendations. I especially like the electronic viewfinder, which is mounted on the top left of the housing. So you don't always press your nose flat against the screen. However, the great size and light weight also have drawbacks. The 16-50 mm kit lens is incredibly compact, but the image quality is not quite on par with its Canon and Nikon counterparts. In addition, the screen can only be tilted, which is not always optimal depending on the shooting situation. Still, the A6000 is worth a recommendation if size and weight are top priorities.
This additional lens provides the wow effect
For many types of photos, the included lens is totally fine. But if you're a food, fashion, or people blogger, there's another lens that's worth it for relatively little money. With a 50mm fixed focal length, you can blur the background much better than you can with the kit lens. This provides the professional wow effect in your pictures.
To go along with my recommendations, I've picked out the appropriate 50 mm lenses that will fit your camera.
For the Canon EOS 250D: Canon EF 50 mm f/1.8 STM
For the Nikon D5600: Nikon AF-S NIKKOR 50 mm f/1.8G
For the Sony Alpha 6000: Sony SEL-50F18F
These lenses cost between €100 and €200, which is generally a very fair price for a good lens. Most good lenses otherwise cost from €400 upwards.
Why is it worthwhile to have your own camera for your own blog, when there are many free (stock) images on the net?
Of course, you can find many free photos on the Internet on sites like Unsplash, which you can use for your blog. But the problem is that 500 other bloggers also use the same images. This doesn't make your blog very unique.
This is also true for Google and search engine optimization. If Google finds the same image on 500 other pages, this is rather negative for your page (duplicate content). The search engine loves unique content. Therefore, it is also worthwhile from this point of view to use your own camera for your blog and take your own pictures with it.
What is important in a blogger camera?
High image quality for outstanding photos
If you want to use more than your cell phone for the photos in your blog, then surely the top priority is image quality. A good compact camera will of course already give you much better image quality than your phone camera, but I recommend an SLR or system camera. With an entry-level camera from my recommendations above, you'll get great image quality at a reasonable price.
If you travel often: small size & light weight
Depending on what subjects you're shooting, you may be more likely to shoot in your local area or while traveling. For example, if you're a travel blogger who travels often, then it pays to pay attention to size and weight. From experience, I can tell you that if your camera is too heavy, you'll leave it at home more often. That's why I recommend light DSLR and system cameras above. Such cameras with an APS-C sensor are then the better way to go.
Good operability
A good camera should be relatively intuitive to use. I still recommend you to read the manual. In my opinion, there are major differences between manufacturers here. It's a subjective assessment, but I'm very happy with Canon here. I always notice that when I use other cameras. Of course, you have to get used to each camera first, but there are those with which photography runs very smoothly at some point.
Does it have to be a camera for 3000 €?
In my experience, the difference in image quality between a 3000 € full-frame camera and a 700 € entry-level camera is not insanely large.
I also succumbed to the hype in 2008 and bought a big kit with full frame camera and 3 pro lenses. The whole equipment cost me 3600 € at that time. After the first two weeks I was surprised that the pictures were not much better than the ones I had taken before. I then continued testing for a few days and noticed that the difference was only slight. So I sold the big photo equipment again and bought a good SLR camera for beginners. I also got a good wide-angle lens and that was all I needed. As a landscape photographer, it made much more sense to put the difference into travel.
Do my recommendations apply to Instagrammers as well?
My recommendations also apply to Instagrammers aka Instagram bloggers. Of course, the pictures on Instagram are smaller to see, but surely at some point the moment will come when you want to print out your pictures. And at the latest then you will see the difference between a cell phone photo and a photo from an SLR or system camera.
I hope I could help you with my recommendations for blogger cameras. If you have any questions or suggestions, just write me in the comments.