You want the best Nikon camera? I'll show you what to look for when buying. I recommend both SLR cameras and mirrorless cameras. One tip in advance: In addition to the sensors, it's also about the right lenses.
Today's article is about the best Nikon camera. Nikon currently builds the best SLR cameras for me. Depending on what your photographic subject area is, you should choose the right camera for you. Of course, this also depends on your budget. I'll give tips on what exactly you should look out for.
If you don't want to read the whole article, then I have prepared a quick overview for you below.
Of course, this article reflects purely my personal opinion.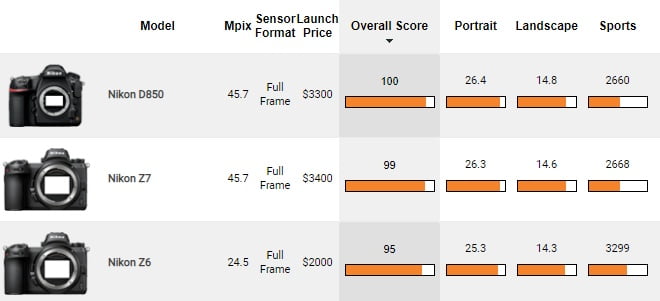 Tips for buying your Nikon camera
Why Nikon is currently ahead of the pack when it comes to SLR cameras
My background is in landscape photography, but I have photographed just about every other photographic subject area. In recent years, there has been a real boom in the digital camera market. Because of this, there has been a lot of further development. However, not every manufacturer has taken the right steps. In my opinion, Nikon has listened to the photographers and gradually improved the cameras. This applies not only to the handling, but especially to the image quality.
Nikon sensors come from Sony
Sony has also driven the development of the camera market and is now one of the top 3 manufacturers. Really outstanding are the sensors from Sony. That's why Nikon at some point took the path of installing Sony sensors in their cameras.
For me as a landscape photographer, the dynamic range is particularly exciting. The top models now have 14.8 stops of dynamic range. For comparison, my Canon EOS 300D at the time had 10.8, so to capture the brightest and darkest areas in the image, I rarely have to take multiple exposures of a scene. This plays a role not only in landscape photography, but also in wedding photography, for example. The difference in brightness between a white wedding dress and a black suit is serious for the camera. More dynamic range benefits you in principle in all photographic areas.
Canon vs. Nikon vs. Sony
Even as a photographer with Canon equipment, I'd choose Nikon today if I were buying a new SLR. Sony, on the other hand, makes great mirrorless cameras. In my survey of landscape photographers, these three manufacturers together currently make up the largest portion with 80.2% market share.
There is no wrong or right when choosing a camera manufacturer. My advice is always to go into a store and pick up the cameras. Look through the viewfinder and judge for yourself if you like the camera. Especially the feeling of the camera in your hand makes a lot of difference. Here you quickly notice what suits you and what does not.
So this decision is a very subjective thing. Just like my opinion that Nikon has the edge in SLR cameras. I base that on handling, image quality, autofocus, speed and the lenses. For me, Canon has missed out on some development here in recent years, while Sony is moving more towards mirrorless cameras. So if you're looking for a new SLR, I definitely recommend Nikon.
Not sure what kind of camera you want? Click here for an overview of my camera tests and guides.
The hard choice between crop and full frame camera
When choosing the best Nikon camera, you can decide between crop and full frame cameras. The sensor of a crop camera is slightly smaller than that of a full-frame camera. As a result, the image quality is even better with full-frame cameras.
This decision will then play a role in the purchase of your lenses. Nikon lenses that are designed for the smaller crop sensor are marked with the suffix "DX". In principle, these lenses can also be used on Nikon's full-frame cameras, but then only part of the sensor is used. If you buy a full-frame camera, then you should also use lenses that are designed for full-frame.
Budget for high quality lenses
When I recommend the best Nikon camera for you, we are of course in the high-end of SLR and mirrorless cameras. The cameras are very good and the sensors are correspondingly high-resolution. In order to be able to deliver an excellent image quality to the sensor, you then also need high-quality lenses. You should include these lenses in your budget when buying a camera. But which lenses do you actually need?
The right lens for your motifs
Before buying a new camera, you should already know what you want to photograph with it.
Is it landscapes? Then I recommend a wide-angle lens.
Are they portraits? Then a fast fixed focal length is the right choice.
Do you want to photograph animals? Then take a telephoto lens.
If you are not yet sure what your motifs will be, then I advise you to buy a standard zoom with your camera and to shoot with it for a year.
During that year you'll get a feel for what your subjects are and what focal length you prefer to shoot with. After that, you can always invest in another lens.
The best Nikon cameras
Below you will find my personal recommendations for the best Nikon camera. I have listed the advantages of the camera first, followed by the disadvantages. I update this list regularly.
Best Nikon mirrorless full frame camera: Nikon Z 7II
Nikon has fixed some of the criticisms of its predecessor with the Z 7II. The Z 7II is one of the best mirrorless cameras out there right now. Like the D850, it has 45.7 megapixels. There is an image stabilizer built into the camera body that works with all lenses. The Z 7 is exceedingly rugged for a mirrorless camera. Therefore, it can be called a real workhorse. However, the biggest plus point is definitely the image quality. Of course, this also requires good lenses.
What is the Nikon Z 7II not so good at? The dynamic range is very good, but some Sony cameras are still a bit better here.
By the way, at the bottom there is a tip for a cheaper Nikon full-frame mirrorless camera that is hardly inferior to the Z 7II.
Best Nikon mirrorless APS-C camera: Nikon Z 50
Nikon has also established itself in the mirrorless camera market. The Nikon Z 50 is currently Nikon's only mirrorless camera with an APS-C sensor. It delivers 20.9 megapixels and good image quality. Features and price-performance ratio fit really well here.
Currently, there are two APS-C lenses from Nikon that are directly tailored to this sensor size. The available standard zoom and telephoto lens are pleasantly compact and deliver good image sharpness. However, the selection of APS-C Nikon Z lenses is still very manageable at the moment. In the next few months, wide-angle lenses and fixed focal lengths will surely be added here.
Since the connection of the camera is the same as with the other Nikon Z cameras, all other lenses from this system can also be used. There is also a kit variant directly with Ftz lens adapter, so you can continue to use your possibly existing Nikon F lenses.
Best Nikon APS-C SLR camera: Nikon D500
The Nikon D500 is currently the best Nikon APS-C SLR camera. It has many of the same features as its professional sister, the D5, including its operation. The housing is robust without being too heavy.
The autofocus is excellent and is well suited for sports, wildlife and portrait photographers. The image quality also leaves nothing to be desired for this sensor size.
In terms of features, the camera has everything you need. The only criticism is currently in the area of Snapbridge data transfer via NFC, WLAN and Bluetooth, which does not yet work smoothly.
Best Nikon full-frame SLR camera: Nikon D850
The Nikon D850 is not only the best Nikon SLR camera, but also the best SLR camera ever. Nikon has done just about everything right here. The full-frame sensor delivers 45.7 megapixels and is still decently fast. The large viewfinder allows for very good image composition and the battery lasts a very long time. The D850 offers a folding touchscreen, 8K timelapse and UHD videos. The best value for landscape photography is held by this camera with a dynamic range of 14.8 stops.
The only thing the Nikon D850 can't do perfectly is autofocus in Live View mode. It's not the fastest and doesn't always hit the mark.
Price-performance tip: Nikon Z 6II
The Nikon Z 6II is also exciting, especially because of the price. It has almost all the features of the Z 7II, but "only" 24 megapixels. Therefore, high-end lenses are not always necessary to operate at this resolution. Therefore, it is definitely my tip for an extremely good price-performance ratio.
Which is the best Nikon camera for you? Do you agree with my selection or do you see things quite differently? Write me in the comments!