You want to buy a new cell phone and are looking for the best cell phone camera? I'll show you what's important and give you my top 3 recommendations!
This list includes my personal subjective recommendations, which are basically based on the rating of DxOMark. I update this list regularly.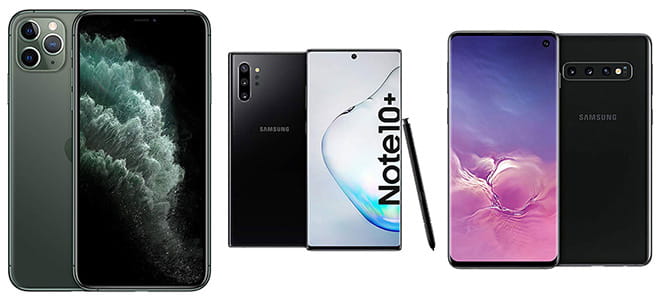 What is important in a phone with a good camera?
A smartphone with a good camera should have the following features.
Number of megapixels
One of the first nominal values of the manufacturers with regard to the camera of the smartphone is the number of megapixels. But how meaningful is this value really? I come from a photography background and there is a similar race with SLR cameras. With a cell phone camera, 8 megapixels are totally enough for me. It's of little use if the cell phone delivers 20 megapixels, but the image is not sharp because the lens is not good enough to handle that resolution.
I can easily make a 20 cm x 30 cm print out of a good 8 megapixel image – in my opinion, even up to 40 cm x 60 cm. Current smartphone cameras have 12 megapixels. My conclusion: the number of megapixels is beside the point.
Number of cameras
Good smartphones today no longer bring just one camera, but several. Most current cell phone cameras bring a triple camera. The top models sometimes even have a quad camera. One camera on the front and one on the back is of course standard. However, I am referring to the cameras on the back.
Due to the design, there are currently almost no phones with an optical zoom lens. In the current generation, manufacturers therefore use several cameras with different lenses. Thus, you often find an ultra wide-angle, a wide-angle and a portrait lens. Thus, it is possible to "zoom in" closer without having to use the digital zoom, which would affect the picture quality of the photos.
Image stabilizer for low-light photos and videos
You don't always have the best light when taking photos. An image stabilizer ensures sharp pictures, even when it is a bit darker. It works for photos as well as for videos. Here, the stabilizer ensures that you can capture videos as smoothly as possible, even if you're moving while recording. An image stabilizer is even more effective against camera shake than a larger aperture.
High image quality
The most important criterion for the best cell phone camera is certainly the image quality. What are the criteria for quality?
High sharpness
Good contrast
Natural colors
Correct exposure
A good cell phone camera delivers pictures that are as close as possible to what you saw with your own eye. So, as mentioned above, today you can easily print your pictures from your smartphone. This is also quite possible as a 60 x 40 cm print without any major loss of quality.
Expandable memory
If you're looking for a phone with a good camera, you'll probably want to take a lot of pictures with it. So you need enough memory. Modern phones often already have a lot of memory built in. However, I would make sure that you can also insert another memory card into the phone. This allows you to expand the capacity individually. Usually, microSD cards are used for this purpose.
If you want to use multiple SIM cards in one phone, you should keep in mind that the microSD slot might not be available anymore. In some dual-SIM smartphones, you can either use the second slot for the second SIM or for a microSD card. However, both are not possible together. Thus, it is worth taking a closer look before buying.
Night photos – photos in poor lighting conditions
Today's smartphones are getting better and better at taking good pictures in low light. The supreme discipline here is certainly night photos. The camera of the best smartphones has its own night mode for this. Often, several pictures are taken in quick succession and the image is compiled via software. The result without a tripod is often better than that of SLR or system cameras.
In my opinion, Huawei is ahead in night shots. One of the best smartphone cameras for night shots is currently the Huawei P40 Pro.
Software – functions like HDR
A good sensor and a good lens are half the battle. However, the software of a smartphone with a good camera also has to be right. It takes care of the further processing of the data from the sensor. When you take a picture, settings such as colors, contrast and sharpening are applied to the image with the help of the software.
Taking a picture in HDR (High Dynamic Range) mode is also the responsibility of the software. If the software is good, it combines several exposures and delivers the most natural result possible.
As a photographer, I also find the HDR function of modern smartphones really good. Sometimes I wish something like this would also be used in system and SLR cameras. The development here in the cell phone market is currently much faster than in the "big" cameras.
User-friendliness of the camera software
Software also includes how easy and intuitive it is to operate the smartphone camera. A modern cell phone with a good camera has an incredible number of functions and setting options. It is up to the manufacturer to make these easily accessible. Furthermore, additional camera apps can be installed via the App or Play Store.
Manual settings for ambitious photographers
Manual setting options are desirable for ambitious photographers. Even the best cell phone camera does not find the optimal settings in a few situations. Here I find it important that you can readjust yourself.
Manual settings in the camera software
OLED display
For a good smartphone camera, it also makes sense that the phone can display the photos well. Modern displays are already very good in terms of color representation and sharpness. OLED displays can show a large dynamic range, which makes the photos appear very rich.
Dark areas in a picture are often also displayed darkly on screens, but instead of black, it is then more of a dark gray. A smartphone with an OLED display can display dark tones even darker without the backlight being too strong.
In my opinion, an OLED display is not absolutely necessary, but a nice-to-have.
Output of RAW files
If you really shoot a lot with your phone and want to take care of settings like colors, contrast and brightness yourself, then the RAW format is interesting for you. It saves directly the data of the sensor. So you can edit your pictures later on your PC. For further processing of the RAW files, a suitable software is necessary.
RAW functionality is especially useful for advanced photographers. This way you can influence all settings yourself and don't have to rely on the automatic.
ToF sensor for beautiful bokeh
The better smartphone cameras have their own ToF sensor. ToF stands for Time of Flight. This sensor can scan the scene from the camera relatively quickly and thus gets info on the distance of the subjects.
Why is this so exciting? With the info from the ToF sensor, effects like bokeh can be calculated much more accurately. Bokeh is the blurred area behind the main subject. You may know this from portraits where the background is blurred.
Sometimes the ToF camera is also used for face detection.
Video resolution and frames per second
Videos are not only interesting for memories. The video quality of today's cell phones is so good that even many YouTubers only use the cell phone for their videos. Image stabilization is interesting here, just like the option to connect an external microphone. However, aspects such as 4K resolution and the number of frames per second thus also play a role when buying the smartphone camera.
In combination with a gimbal, this makes it possible to create very good videos.
Good battery life
Once you're actively taking pictures, you'll quickly accumulate a few photos. The phone's screen is also permanently on during this time. It is all the more important that the battery lasts a long time.
An insight into this: Even with the battery life of current cell phone generations, professional Instagrammers still have a powerbank with them.
Operating system – Apple iOS or Android
In the smartphone sector, there are essentially two operating systems for phones: Android and iOS. Both have their advantages and disadvantages. Overall, though, it's safe to say that neither is better or worse in comparison. They're just a little different.
Why am I including this in my decision on the best phone camera? Because it's important that you're able to use your new smartphone well, too. So I recommend you stick with the same operating system you've been using before.
Cell phone camera vs. compact camera
Is a compact camera even worth it today? The image quality of modern cell phones is very good in comparison nowadays. As a photographer, I can say the same. Some of the pictures of my last alpine photo tour, for example, were taken with a cell phone. The image quality of a Samsung Galaxy S7 cell phone was also very good. But I find that with your own (compact) camera, you approach photography in a different way. Then the photography is really in the foreground and happens less on the side.
Another advantage of a good compact camera is an electronic viewfinder. This allows you to better assess the image and composition before taking the picture. Especially in situations with strong sunlight, a viewfinder is a helpful thing. Otherwise the sun will shine on your display and it will be more difficult to judge the image. See my article on the best compact cameras for my current recommendations.
Cell phone camera reviews
Over the course of time, I have tested many top models among cell phone cameras. These smartphones included:
Samsung Galaxy S7: Does a cell phone take better pictures than an SLR camera?
How good are the RAW files of the Samsung Galaxy S7 Edge?
Huawei P20 Pro camera review
Samsung Galaxy S10 camera review
Samsung Galaxy S20 camera review
iPhone 12 Pro camera review
iPhone 12 Pro vs. Samsung Galaxy S20 camera comparison
I also looked at how a cell phone camera stacks up against an SLR camera in terms of image quality.
Which is currently the best cell phone camera?
The Samsung Galaxy S21 Ultra 5G currently has the best cell phone camera. All cameras deliver sharp pictures. The image quality is good enough to professionally produce pictures for websites and videos for YouTube. Thus, you cannot go wrong with the Samsung Galaxy S21 Ultra 5G. The Samsung Galaxy S20 FE 5G has the marginally worse alternative and the much better price-performance ratio. For users who are already in the Apple ecosystem before, the Apple iPhone 12 Pro Max is the first choice.
My recommendations are based on the tests from DxOmark and Chip.
Which phone do you think has the best camera? Wondering if it's worth upgrading from your current smartphone? Write me in the comments!