During the last couple of weeks, I've been shooting almost exclusively with a new camera. It is the Fujifilm X100F. I'll tell you about my experiences in today's review. Of course, there are also sample pictures.
My background
I am mainly engaged in landscape and architecture photography. Mainly I shoot with a Canon EOS 700D. I have already used a Fujifilm X100S and a X100T. Both Fujifilm cameras I have sold again/returned. But now I have been looking at the X100F for a while and I just couldn't stop the urge to buy this camera.
I regularly test new cameras and write about them, you can find more tests here.
Meanwhile the successor of the X100F has been released, the X100V. Since I currently use this camera, you can find my Fujifilm X100V review here.
Technical Data
Before I start with the actual test, here are the most important technical data of the X100F at a glance:
X-Trans III 24.3 megapixel sensor
APS-C sensor size
23 mm F2.0 fixed focal length (35 mm 35mm equivalent)
Resolution: 6000 x 4000 pixels
Aspect ratios: 3:2, 16:9, 1:1
Close focus distance: 10 cm
ISO: 100-51200
display: 3″
Weight: 419 gr
Memory cards: SD, SDHC, SDXC
I'll spare you further data at this point, because you can read it on the Fujifilm website or on the relevant websites. In my Fujifilm X100F review, you won't find any sharpness tests or exact numbers on the camera's dynamic range either.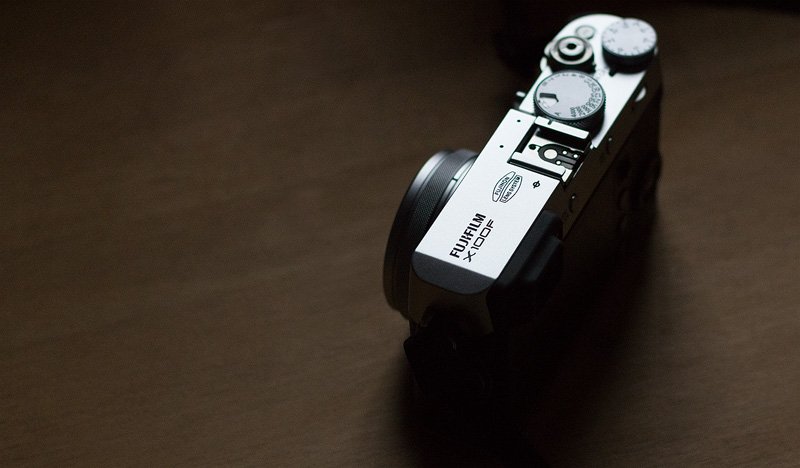 The biggest challenge of the X100F
The biggest limitation on this camera was also the reason why I sold the X100T again at that time. You really have to be ready for it.
Today, almost all compact cameras have zoom lenses. The first SLR camera is bought together with a zoom lens in 99% of all cases. As a photographer, you are very used to this type of lens and appreciate the convenience of not having to constantly switch between 3 fixed focal lengths. Whether zoom or fixed focal length, both types of lenses have advantages and disadvantages.
With the X100F, however, you practically only have one fixed focal length. You can't switch anymore. Depending on what kind of lenses you're used to, that can feel good or bad.
But a fixed focal length also has many advantages:
Small and light in this focal length range
Brighter than most zoom lenses
You no longer have to choose which lens to pack for your next photo trip
You think more about your image composition, which leads to better images
Image quality is often better than with zoom lenses
So having only a fixed focal length can also be an advantage. The thing is, you have to go for it.
The X100F has a 23mm lens, which is 35mm in 35mm format. That's a typical focal length for reportage. The lens has a starting aperture of 2.0. Not a wide-angle lens. Not a telephoto lens. Or as point 4 from 21 Ways to Improve Your Photography says, you only have your feet.
I had to get to the point where I could get involved with this 23mm lens. From landscape photography, I'm more used to a super wide angle. So it was hard for me to settle for less wide angle. A telephoto lens, on the other hand, is not something I miss.
What I love about the Fujifilm X100F
I love how small and light this camera is. It's just always with me and sometimes I forget that I'm carrying it on my shoulder.
How good the image quality is with it. For the size and weight of the camera, the image quality is just stunning. It has an APS-C sensor and the aforementioned 23mm lens delivers fantastic sharpness.
How good the JPG files are. Right now, I'm shooting entirely JPG. I don't use RAW on the X100F. I just don't feel the need. There is something primal and analog about just getting the finished files out of the camera.
I love Fuji's film simulations. I shoot a lot in black and white with the Fuji Acros. For landscapes with bold colors, of course, I like to use Fuji Velvia. It is a bit liberating for me to be able to shoot directly with these film simulations and not have to worry about the colors or contrast in post processing.
I love being able to make all the important adjustments on dials right on the camera. There are dials for ISO, shutter speed, aperture, and over/under exposure. As I read in another review. "The camera's display could fail and I could still make all the adjustments I need."
And I love the electronic viewfinder. I raved about it in my Sony RX100 V review, too. The X100F even brings a hybrid viewfinder, but I practically don't use the optical viewfinder, only the electronic one. It's just immensely helpful. To be able to see the images already in the final format with the final colors or the final depth of field. Without the reflections on the display. Again, I have to praise the fact that the viewfinder on the camera is placed on the upper left. This means that you don't press your nose flat.
What could be better about the X100F?
The speed of the autofocus system is not particularly fast. But somehow that doesn't bother me at all. Maybe it's because I rarely shoot fast and moving subjects. That's really all I can think of.
Comparison of the image quality of the X100F with a Canon EOS camera
I don't only shoot with the X100F, but also with other cameras. My main camera is currently a Canon EOS 77D. I once took test pictures with both cameras to compare them. The Fujifilm X100F with the 23mm lens versus the Canon EOS 77D with the 24mm 2.8 pancake lens. I can't find a clear winner.
The best accessories for the Fujifilm X100F
Lens hood
Fuji makes you pay a lot for the original lens hood, but the JJC LH-X100 replica is super well made and fits like a glove.
Batteries
The original Fujifilm batteries aren't cheap either, I use Patona Premium batteries instead and I'm very happy with them. The X100F eats up significantly more power than my Canon EOS 700D, so I have two extra batteries.
Memory card
The Fujifilm X100F is not a speed miracle, so a mid-range card will suffice. I still went for the high-end variant because I don't want any limitations here. The 24 megapixel images from the camera have a 6000 x 4000 pixel resolution, even the JPGs are relatively large. In order to have some air upwards, I have chosen a SanDisk Extreme Pro with 64 GB here.
Bag
As written above, I really appreciate the small size and low weight of the camera. To keep it that way, I also wanted a very small and light bag. With the X100S I once had the original leather bag from Fujifilm, however, the camera becomes too big and unwieldy for me with it. Therefore, this time I bought a small neoprene bag, with which I am very satisfied.
Filter
Since I often shoot landscape and nature, there are some filters I need for that. More specifically, these are a polarizing filter and two ND filters. I use a Hoya Pro1 polarizing filter, a Hoya ND8 and a Hoya ND400 on the X100F. If I need even more darkening, the camera also has an internal ND filter. This filter swallows 3 stops of light and can be added via menu.
Remote shutter release
In a forum I read before the purchase the tip that the Canon RS60-E3 also fits to the X100F. The advantage is that this remote release holds better than the original Fujifilm remote release with micro USB thanks to the jack plug. Since I am otherwise a Canon user, I already had this trigger and can use it on both cameras.
Wide Angle and Telephoto Attachment
Fujifilm offers both a wide angle and telephoto attachment for the X100 series. The optical quality is supposed to be very good. However, since I'm happy with the weight and size of the camera, I don't feel the need to get these attachments at all. I like the 23 mm very much. By the way, there are also reports on the net that the wide angle converter of the Fujifilm X70, i.e. the WCL-X70 does very well on the X100F.
Thumbrest
This thumb rest from Lensmate is inserted into the hot shoe. It is said to radically improve the grip of the camera. Photographers who use the Thumbrest swear by it.
The shutter release button of the X100F has a small screw-in thread. Custom shutter release buttons can be attached above it. There are all sorts of variations, from wood to plastic to metal. I like this idea a lot! Imagine everyone being able to customize, tune and color their camera to their liking – how awesome is that! Next on my wish list is a red aluminum shutter button.
Sample images from my Fujifilm X100F review
It may seem strange that most of the sample images here are in black and white. However, I just love the Acros film simulation! The last image is taken with the Velvia simulation. All pictures were taken in JPG.
My conclusion to the Fujifilm X100F test
The Fujifilm X100F is a gem that you have to be ready for yourself. Ready to get involved with a 35mm fixed focal length. If you can do that, you'll love this camera. Fuji has been listening to the users of the camera since the beginning of the X100 series and is continually improving the hardware and software. Is the camera too expensive? Fujifilm has managed to do what Apple has done before as well: they have built a product that people fall in love with and are happy to pay more for.