I just had the Sony a6000 with the 16-50 mm kit lens for a week of testing. Find out how it fared in today's post!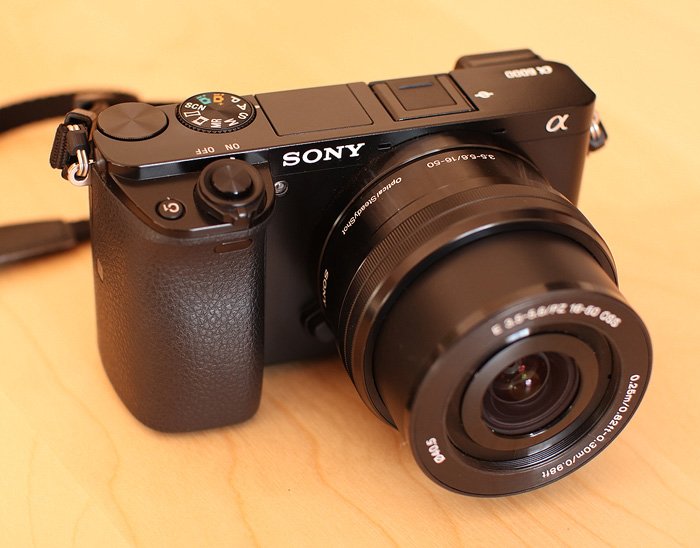 My personal history
Since 2005, I have primarily photographed with Canon EOS cameras. Accordingly, I am used to the very good Canon operating concept. That's why I also draw a certain comparison to these cameras in my test. However, because of image quality, size and dynamic range, I look over to Sony every now and then. I am quite sure that my next camera will be a Sony system camera. So I was even more pleased when a friend agreed to let me test her Sony a6000 for a week.
Data about the Sony a6000
The Sony a6000 is a mirrorless system camera with an electronic viewfinder. It offers 24 megapixels and a 3.0 inch screen. Videos can be recorded with it in Full HD resolution at a maximum frame rate of 50 frames per second. For photography, the continuous shooting speed is up to 11 frames per second. Depending on the choice, the Sony SEL 16-50 mm kit lens is included.
Pleasant size and weight
Compared to an SLR camera, the size of the camera is the first thing that stands out. The very compact 16-50 mm lens also contributes to this. You can still get this combination into a larger jacket pocket, which is more than you can say for a DSLR with a kit lens.
The camera is also naturally quite a bit lighter than an SLR. With battery, memory card and lens, it weighs less than 450 grams. Especially in a backpack, you hardly notice the extra weight.
Personally, I find the size and weight of a camera very important in the long run. If you realize over time that the camera is too heavy and too big for you, then you either take it with you less, or stress yourself out on photo tours. With a smaller and lighter camera, I can simply shoot longer because I don't get tired of carrying it as quickly. That ultimately benefits your photography. That's also the main reason why system cameras are just replacing SLRs.
Folding display – only tilt, not tilt
Since I also shoot a lot from a tripod, a flip-up display is important to me. This way, I don't always have to contort myself to be able to see the image on the display. The Sony a6000 has a folding display. However, the display can only be tilted up and down, not to the side. If you only shoot landscape, then it works, but not in portrait mode from a tripod. I find this to be a minor drawback with the A6000. Other than that, the display is sufficiently sharp and fast enough.
Good placement of the viewfinder
I've become a big fan of electronic viewfinders because I can see image settings like black and white or a square format right when I'm shooting. What I particularly like about the A6000 is that the viewfinder is placed at the top left. This way, my nose is not permanently pressed against the camera when taking pictures. The viewfinder is ok in terms of sharpness.
Besides my Canon EOS 77D, I also use a Fujifilm X100F, whose viewfinder is huge compared to the a6000. The X100F is also a crop camera. Here you can see what development is still possible. So the viewfinder of the A6000 is relatively small, but still on the level of an SLR camera like Canon's 77D.
Intuitive operation
Even though I'm very used to Canon as described above, I had no problems whatsoever operating the camera. I scrolled through the menu once, then tried the button assignments for aperture, ISO and time and I was ready to go. In general, I found it easy to use, even without reading the manual. That is definitely a plus!
Despite the small size of the camera, I found the feel of the camera to be okay. I have very large hands and was still able to grip and operate it well.
Good image quality
Those who know my e-book know that I place a lot of importance on image quality. In general, the Sony a6000 with the 16-50 mm OSS kit lens delivered good image quality in my test. The 16-50 mm is not quite as strong in the wide-angle range. This means that the corners of the image are not always sharp at 16 mm. In return, the 16-50 mm lens is very small and light.
Apart from that, I find that the image quality is on par with an APS-C SLR. The dynamic range is also in a very good range at 13.1 stops. This value plays a big role for me as a landscape photographer.
Battery performance – better to take 2 spare batteries with you
The friend who gave me the A6000 to test included two spare batteries as a precaution. I had no battery problems during my test week. By problems, I mean that the batteries run out quickly. However, according to her, the friend in question always takes both spare batteries with her for a complete day of photography. So if you buy the a6000, I would also recommend two spare batteries. If you don't want the original batteries because of the price, I have had good experiences with Patona. Here you can find the right ones for the Sony a6000.
Test pictures – these pictures were taken during my test
I took several photo tours with the Sony a6000 during my test, these pictures were taken among others.
Alternatives to the Sony a6000
The A6000 already delivers a very coherent overall package of features and price-performance. If you are looking for alternatives to the Sony a6000, you will find some suggestions in my article System Camera for Beginners. I also update this article regularly.
My conclusion to the Sony a6000 test
What did I like about the a6000, what didn't I like?
+ Small & compact
+ Relatively light weight
+ Good image quality
+ Intuitive operation
+ Good placement of the viewfinder
+ Good price-performance ratio
– Flip display can only be tilted, not tilted to the side
– Electronic viewfinder could be larger
– 16-50 mm lens not quite sharp in the wide-angle range
All in all, the Sony a6000 is a really good mirrorless system camera. In my test, I particularly liked the size and weight, the placement of the viewfinder, and the operation. What I didn't like was the fact that the folding display can't be tilted to the side and the sharpness of the 16-50 mm lens. Of course, we're talking about complaining on a high level here. Nevertheless, I would definitely recommend the A6000. Especially for beginners it is a very good choice.
Extension: If you have had the Sony a6000 for a while and are thinking about how to move forward, you can find some suggestions in my article about Sony a6000 lenses. Of course, these recommendations apply just as much to the Alpha 6300, 6400 and 6500. In general, Sony cameras can also be found in several of my best lists.