I borrowed the Sony a7 III in March 2019 and bought it in January 2021. Find out how the full-frame camera performs in the test!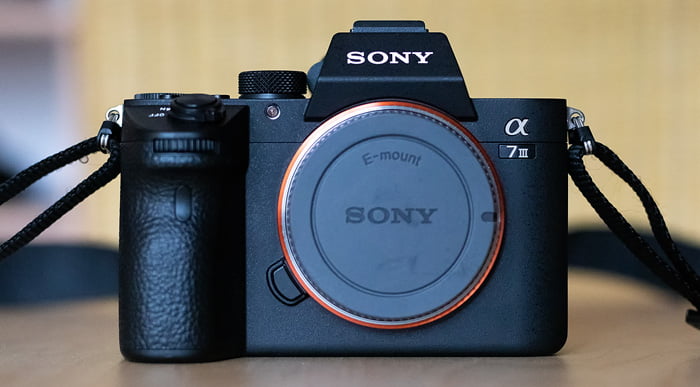 🧪 How did it come to the test of the Sony a7 III?
I've been a Canon user for 15 years and have been squinting over to Sony every now and then for some time. Reasons are mainly the larger dynamic range and lighter weight of a system camera. To really have a direct comparison, I borrowed the Sony a7 III for a week.
Sony A7 III test
Update: This review of the Sony a7 III was originally from 2019. In January 2021, I bought the camera myself and have now updated some points. I can say one thing up front – the camera is still very good!
📷 Data on the Sony a7 III
The Sony a7 III is a mirrorless system camera from Sony. It has a full frame sensor with 24 megapixels. The connection for lenses is Sony E-mount. An image stabilizer is built into the housing. Thus, it delivers up to 10 frames per second. In addition, the autofocus is significantly faster than the previous model in a direct comparison. According to Sony, the shutter is designed for 200,000 releases. It is capable of videos in Full HD and 4K resolution.
The Sony a7 III kit includes the 28-70 mm OSS lens, which is probably ok in terms of quality. When I bought it, I opted for body only and two lenses – the Sony FE 16-35mm F4 ZA OSS and the Sony FE 55mm F1.8 ZA.
📷 To what extent is the Sony a7 III different from the Sony a7 II?
The main differences between Sony a7 III and Sony a7 II are the improved battery performance and the upgraded sensor. The current 24 megapixel sensor delivers a much lower noise image at higher ISOs. The battery now lasts twice to three times as long.
A lot has changed in the video area, where everything is now possible from 4K with 30 fps to Full HD with 120 fps. In addition, S-Log3 was added as a video format, from which a lot can be extracted with good color grading.
In addition, the autofocus has been greatly improved and the continuous shooting speed increased to 10 frames per second.
But now to the actual test of the Sony a7 III with all its features.
📷 Size and weight
For my test, I borrowed the Sony A7 III together with the Sony FE 4/16-35 mm OSS. My main areas of interest are landscape and architectural photography. Therefore, it was also obvious to choose a wide-angle lens for this test. You can find more info about this lens in my Sony FE 16-35 mm F4 ZA OSS review.
At 650 grams, the Sony A7 Mark III is a bit heavier than my previous Canon EOS 77D, which weighed in at 540 grams. Of course, the Sony is also a full-frame camera, which is reflected in the weight. If you want to get good image quality out of the a7 III, good lenses are a must. The 16-35mm would also be my lens of choice on this camera for landscapes. It is very solidly built, but it also weighs 518 grams.
So my first impression when I picked up this combination was: not so light at all.
I find the size very comfortable. The A7 III feels good to hold. I never had the feeling that the camera was unsteady in my hand or that I couldn't reach certain buttons because the camera was too small. It feels very "right." Especially for my large hands, I liked it much better than the Fujifilm X-T4, for example, which I had bought in the meantime. The handle is pleasantly large and is also therefore good in the hand.
📷 Haptics & Operation
Viewfinder – Big
The first thing that caught my eye positively was the electronic viewfinder. This is huge in contrast to my previous APS-C SLR camera. Throughout the test, it was a real joy for me to take pictures with it. One thing I always notice when testing other cameras is that it's much easier to find the right composition with a larger viewfinder.
I also like the fact that the viewfinder doesn't end at the same depth as the display, but sticks out a bit further. This way, you don't always press your nose flat against the display.
The viewfinder is pleasantly not at the same depth as the display.
The a7 III has been on the market for some time now. Therefore, the question always arises whether the viewfinder is not outdated and the resolution is now too low. In the meantime, I have had the Fujifilm X-T4, which has a somewhat higher resolution viewfinder. In my opinion, the Sony A7 III's viewfinder is still perfectly adequate.
Adjustment dials – Quick to learn
Although I didn't have a manual available for the test, even as a Canon user I quickly found my way around the controls. The Sony A7 III has three wheels for aperture, time and ISO. In addition, there is a separate wheel for exposure compensation, which I am already used to from the Fuji X100F. So the settings for handheld photos were quickly learned.
Body quality – Solid
The camera is very solidly built and well thought out. The body feels valuable without being too heavy. The pressure point of the buttons fits, and the joystick works wonderfully.
Folding display – good for landscape formats
The Sony A7 III's display can be tilted 45° down and just over 90° up. This is particularly relevant for me when shooting from a tripod, as the camera is often at belly or knee level here. So this tilt works well for shooting in landscape mode.
However, since the display cannot be rotated to the side, I still have to contort myself when shooting in portrait mode from a tripod. I definitely miss a swivel display here.
Beyond that, the display is always easy to read and definitely sharp enough.
Unusual: No switch for autofocus and image stabilizer
After sunset, I wanted to start some long exposures. For this, it was a bit unusual to find no switches on the 16-35 mm F4 lens with which I could deactivate the autofocus and image stabilizer. These two settings have to be made via the menu. At first glance, this is a bit cumbersome. However, I'm sure that after two months of use, it's practically no longer a point of criticism.
Update: Since I've been using the camera for several weeks now, these two points no longer bother me. I have direct access to switching between AF and MF via the C3 button on the camera. In my own menu, I added the selection for SteadyShot so I can quickly disable the image stabilizer.
Menu structure takes some getting used to
The A7 III comes with a lot of features. When it comes to the menu structure, you can tell that Sony had a hard time getting the setting options all under one hat. The menu is not generally confusing, it simply contains a lot of setting options. During my test, I had to look into the manual twice online to find out where the corresponding item in the menu was located. However, I think that the most used menu items are quickly memorized after a short period of use. In addition, there is also the own freely configurable index card in the menu, where you can put the most used functions.
In the meantime, I have placed the functions that I need more often in my own menu. Thus, I am here quickly in the selection and feel the menu of the a7 III as perfectly fine.
📷 Autofocus: fast and accurate
Compared to the predecessor, the autofocus has been greatly improved. In the test, the AF was practically always accurate. The AF speed is pleasantly fast, even though a good SLR camera would feel like it is even faster. However, the autofocus is more than sufficient for 98% of the shooting situations. Sony has really done a good job here.
The Sony A7 III offers two memory card slots, one being slightly faster than the other. Both are SD card slots.
The first slot, which is the lower one, can also handle UHS-II cards. Such a UHS-II memory card is especially useful if you work a lot with the continuous shooting mode or frequently shoot 4K videos. A recommended UHS-II memory card is this SanDisk Extreme PRO 64 GB. It delivers speeds of up to 300 MB/s.
📷 Battery life very good.
I took photos with the Sony A7 III for a week. In the process, I used the camera for a total of about 7 hours. For this period, I needed half a battery charge. So in that respect, the camera does very well.
When I bought the a7 III, I added a second battery. Now that I've used the camera and the batteries for a few weeks, I'm very impressed with the battery performance. Feeling the battery lasts quite a bit longer than my previous Canon EOS APS-C cameras.
📷 Combined image stabilizer for long exposure times from the hand.
From my Canon camera, I know there are lenses with image stabilizer. The a7 III also brings an image stabilizer in the body as mentioned above. The camera can combine these two stabilizers. If you take a wide-angle lens, it allows you to handhold exposure times of half a second.
I found this very convenient when shooting without a tripod. I used ISO 50 handheld for maximum dynamic range and f/8 for good overall sharpness. Thanks to the image stabilizers, I was able to shoot numerous lighting situations and subjects without a tripod. I imagine this feature will be especially helpful for interior architecture shots.
📷 Image quality
The Sony A7 III's 24 megapixels deliver images at a resolution of 6000 x 4000 pixels. Options available for saving include uncompressed RAW, compressed RAW, and of course JPG.
Sharpness
This point is, of course, mainly dependent on the lens used. During my test, I had the Sony FE 16-35 mm F4 ZA OSS at my disposal. It imaged sharply in all focal length ranges, right into the corners. Presumably, a good fixed focal length can be used to get a bit more out of the 24 megapixel sensor.
With the purchase of the camera, I now also have the Sony FE 55mm F1.8 ZA in my photo backpack. It is one of the sharpest lenses I have ever used. Here you can see that even more can be gotten out of the sensor. Some of the sample Mercedes S-Class images below were taken with this lens.
Dynamic range
The dynamic range of the A7 III is very good. This aspect is also helped by the fact that the camera's exposure metering does a very good job. DxO gives the A7 III a dynamic range of 14.7 stops. This is about one stop better than my Canon EOS 77D.
The A7 III masters almost all "everyday situations" excellently, without the highlights fraying or the shadows getting too dark. It only reaches its limits in direct backlight situations.
If you expose your images in such a way that the highlights do not erode, then you can still get a lot out of the shadows in Lightroom and Adobe Camera RAW in particular.
Especially with ISO 50 shots, the dynamic range is already very large. For many lighting situations, I can simply expose so that the highs don't erode and then lighten up the mids and lows a bit in post processing. So I need fewer exposure series to record the full dynamic range.
Do you generally not need bracketing at all anymore? There are still situations where the dynamic range of the scene is so large that I do bracketing. That happens mostly with backlit shots. But I definitely don't need to bracket as often as I did with my Canon APS-C cameras.
Noise performance
As a final section on image quality, I have to say a word about noise performance. I'm very impressed with how little noise the A7 III produces, especially at low ISOs. When does this matter to me as a landscape photographer? When I need to brighten dark areas of the image in post processing.
I took the following picture at ISO 50. The lower part with the field was almost black, accordingly I had to increase the exposure by two two stops for this and also set the depth slider in Adobe Camera RAW to +50. The result is really fantastic for what image information I had left in the source file in the first place.
The ISO of the Sony a7 III can be turned up to 51200. In the test, however, I didn't look at the noise behavior at these high ISOs, since I don't use them in practice anyway. In any case, Sony has done a good job here.
Colors & contrast
I would describe the color reproduction as natural, there are no special aspects here. In terms of contrast, you might assume that the images will be dull due to the higher dynamic range, but that's not the case. The contrasts are pleasantly crisp without being too aggressive.
📷 Sample images
Below you will find a small selection of pictures taken during my Sony A7 III test. Click on the respective image to enlarge it.
📷 Differences between Sony a7 III and Sony a7R III
You may be faced with the decision of whether to buy the A7 III or the A7R III. By and large, both camera differed only in two aspects: Viewfinder and Megapixels. Personally, I think almost all users are better off with the A7 III because they don't need the high megapixel count. More megapixels also means you need better lenses. Also, your computer needs to be adequately sized to work smoothly with the larger files. The viewfinder on the a7R III is minimally better, but the one on the A7 III is already very good. Personally, I would definitely prefer the Sony A7 III. Both cameras are in several best lists of mine.
📷 Measured values for the Sony a7 III from other reviews.
At DPReview, the Sony a7 III scores an 89% rating and a Gold Award. The sensor is rated at 96 points at DxOMark. PCMag UK awards 5.0 in its review, Shotkit also rates 5 stars.
📷 Points of criticism – What don't I like so much about the Sony a7 III?
After a few weeks of use, there are essentially three negatives that I don't like so much about the camera.
1. no image preview for square images
I like to shoot square sometimes as with the 6×6 medium format. Here it is much easier for me to build a good image composition if I can see the image already square in the viewfinder. With the A7 III, I can set the aspect ratio to 3 : 2 and 16 : 9, but not 1 : 1. I help myself by activating the 6 x 4 grid lines, so I know that I'm not including the two outer rows of boxes in my composition.
2. no tiltable display
This point probably only matters to photographers who occasionally shoot from a tripod in portrait mode. The display of the a7 III can be tilted, which is very helpful for shooting in landscape mode from a tripod. However, the display does not tilt, so I have to bend again to see the image preview well when shooting in portrait mode.
3. no time display for bulb shots
I occasionally take long exposures, which then also run longer than 30 seconds. I could use the app to control the camera for that. However, I don't like to fiddle around with the smartphone while taking pictures, because I want to concentrate fully on taking the picture. In this respect, the only thing left is a remote shutter release. I use the Sony RM-VPR1 for this, but when I now select Bulb for the exposure time so that I can expose as long as I want and hook the remote shutter release to Lock, I don't see any indication of how many seconds or minutes I have already exposed. So I always have to use an external (stop)clock.
Point 1 and point 3 could be fixed by firmware update. Maybe Sony also reads this post and lets my wishes flow into the a7 IV. 🙂
📷 Sony a7 III alternatives
What are the Sony a7 III alternatives? In my opinion, the two main alternatives are the Nikon Z 6II and the Canon EOS R6. In my full-frame system camera mid-range comparison, I have compared the technical specifications of these three cameras. So you can get an overview for yourself.
When it comes to native lenses, Sony is currently still better positioned than Canon and Nikon. With Sony, there are suitable lenses for almost every price and performance range. Even if there are no lenses directly from Sony for a certain budget or application, it is also worth taking a look at the many third-party manufacturers of lenses for the E-mount.
Sony a7 III as well as Nikon Z 6II and also the Canon EOS R6 are suitable for many different applications. So it doesn't take much whether you use them for landscape, portrait, event, food, wildlife, macro or wedding photography. In comparison, all of them are fast enough, offer a sufficiently high resolution and are easy to operate. In my opinion, there is no one of these cameras that is explicitly much better suited for a particular application.
If you don't really care whether your new system camera has an APS-C or a full-frame sensor, the Fujifilm X-T4 is also still a good alternative to the Sony a7 III. Especially the retro look of the cameras and the great quality of the out-of-camera JPGs make Fujifilm attractive.
Is the Sony a7 III still worth it in 2021?
For me, the lens range of the full-frame system cameras from Canon and Nikon is not mature at the moment. Canon's lenses are largely priced for professionals, and Nikon doesn't yet have lenses like a 50 mm 1.4. In this respect, I still see Sony ahead here.
As mentioned above, I have also released the Fujifilm X-T4 in the meantime. You can find more info about it in my Sony a7 III vs. Fujifilm X-T4 comparison.
Conclusion: even though there are some points about the A7 III that need improvement, overall it is still a very good camera that will still be worth buying in 2021. So even buying a used Sony a7 III can be worthwhile.
Conclusion of my Sony a7 III review
The Sony a7 III is a great camera. It has about the weight of an entry-level SLR, and the body feels very good in the hand. For me as a Canon user, the overall operation was quickly learned. One particularly positive point for me is the viewfinder, which makes it a real joy to find the right image composition. The image quality is also beyond reproach.
It unfortunately doesn't have a swiveling display and a few minor blunders in operation. The overall package is very well-rounded, and there is little else to criticize. For me, it is currently the best camera in terms of price-performance ratio.
If you have decided to go for the Sony a7 III, you can find recommendations in my article about Sony a7 lenses.