Looking for a laptop for image editing? Here are my current top 3 recommendations!
Below I'll show you which components are important and what you should look out for. If you don't want to read it all, here's a quick overview.
The recommendations are based on my PC and photography experience of more than 15 years.
What should a laptop for image processing be able to do?
Good and large screen with accurate color display
For photographers, the screen is one of the most important things in a new computer, not just a laptop. Here, even light distribution, precise color reproduction and sufficient brightness are in the foreground. I recommend a laptop screen with IPS technology for this. In terms of resolution, Full HD (1920x1080px) is perfectly sufficient, even for larger laptop screens up to 17 inches.
Depending on how often you transport the laptop, you can choose between 13, 15 and 17 inch sizes. I recommend a 15 inch laptop and for at home an external screen, more on that below.
I have recommended 13 inches as a screen size here in previous years. After three years of using a 13 inch laptop myself, my next one will definitely be a 15 inch. Of course, the 15 is bigger and heavier – but working on a larger monitor much is more comfortable. Especially with ultrabooks, we're talking about a weight difference of 1.4 kg for 13 inch and 1.8 kg for 15 inch. I am willing to carry this additional weight if I have more work space on the road in return.
Additionally, the monitor should be calibrated so that your photo print looks like you saw it on the screen. Below is a recommendation for a calibration device. For more info on this topic, see my article Calibrating Your Monitor.
Good performance for smooth image processing
Newsletter Lead 4 – Photo EquipmentThis point is actually self-evident. If you edit pictures, then your new laptop must be able to do a lot. The more megapixels you get from your camera, the better hardware you need. Not only processor and RAM are crucial here, but also the graphics card is now used by Photoshop and Lightroom.
When it comes to graphics cards, an onboard graphics card is okay, but a "real" graphics card is better. Here it is not necessary to take a high-end graphics card, an entry-level graphics card like the Nvidia GTX 1650 is perfectly sufficient. The difference in Lightroom and Photoshop compared to a high-end graphics card like the Nvidia RTX 3080 is less than 20%.
If you use Lightroom, then you should at least pay attention to a fast hard drive, I would rather recommend an SSD.
My recommendations for the components:
Processor: from Intel i5 or AMD Ryzen 5, better Intel i7 and AMD Ryzen 7
Memory: 16 GB or more
Graphics card: Nvidia Geforce GTX 1650 / AMD RX 5500 XT or higher
Hard disk/SSD: 512 GB SSD or higher, better 1TB+
Perhaps these are sporty requirements at first, especially with regard to the price. But if you consider that you will probably use the laptop for the next 5 years, then it is worth investing a bit more here.
Low weight for comfortable transport
You'll probably want to take your laptop with you from time to time. For me, the weight then also plays a certain role. Especially if you take camera equipment and laptop with you, it adds up to a few kilos. Today, I would no longer buy a laptop that is heavier than 2 kg. For me, a 15 inch laptop is the optimal combination of size and weight.
If you use your laptop pretty much all the time at home and don't really need it on the road, then it might be worth considering a PC for image editing. You'll usually get more performance for less money.
Windows or Mac
In my opinion, whether you use Windows or Mac depends mainly on which system you've been using. Both operating systems are very mature, so neither is significantly better or worse. If you are used to Windows, go back to Windows. If you're used to Mac, go back to Mac. My recommendations below are all Windows laptops.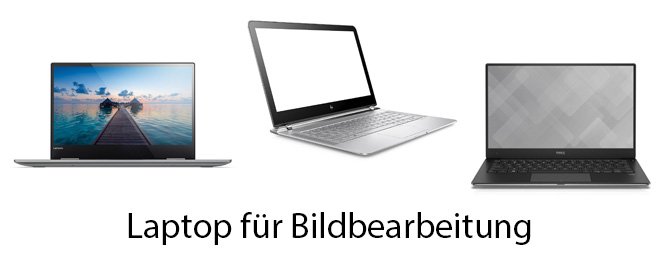 Laptop for image editing: My current top 3 recommendations
Below you'll find my current top 3 recommendations for laptops for image editing. I update this list regularly.
Small budget: Lenovo Yoga 7i
The Lenovo Yoga 7i has a 14-inch screen that runs at Full HD resolution. This screen uses IPS technology and thus offers a comprehensive color space. One of the reasons I recommend IPS screens is that they are viewing angle independent. It doesn't matter if you sit a bit higher or lower on your chair. Even if you want a second person to look at your pictures, they will see the colors and brightness just like you.
You can also turn the screen 180 degrees and use the laptop like a tablet.
The laptop runs on an Intel i7 processor, 16 GB RAM and has a 1 TB SSD. So you can also store more pictures without the memory filling up too quickly.
Show current price of the Lenovo Yoga 7i
Medium budget: HP Spectre x360
The HP Spectre x360 offers a very good overall package and combines all the features mentioned above. It has a 15.6-inch screen, an i7 processor, 16 GB of RAM, a 2 TB SSD and an Intel Iris Xe graphics card. The price is very reasonable for the performance. The screen can also be folded back completely here.
Big budget: Dell XPS 15
The Dell XPS 15 is the best laptop for image editing for me. It offers a 15.6-inch screen, good performance, is light, has a good keyboard, a pleasant touchpad and the battery lasts forever. It has an i7 processor, 16 GB of RAM and an NVIDIA GTX 1650 Ti graphics card. Furthermore, this XPS 15 has a 1 TB SSD, so even larger photo volumes on the go are no problem.
An external monitor makes sense
I currently use my Dell XPS 13 for image editing along with an external monitor when I'm not on the go. I use the predecessor of the Dell P2419H 24-inch monitor. This monitor has an IPS panel, which is good for color reproduction and viewing angles. On top of that, it has a great price-performance ratio.
This way, I have a lightweight laptop when traveling and still have a great monitor at home. I wrote a separate article on this as well: Monitor for image editing. My recommendation is to use an external monitor at home, because it is much more comfortable to work on it.
Get more image quality out of your photo equipment without having to buy a new camera and lenses!
Laptop for image editing with 13 inch screen
If you travel a lot, you may want to carry minimal extra weight. Then a laptop for image editing with a 13 inch screen is the right choice. My recommendation here is the Dell XPS 13, which I currently use myself for traveling and in the office.
Laptop for image editing with a 17 inch screen
I've noticed from some email inquiries that there's a need for this as well. Because of the size, these models are a bit heavier. But if you're going to use the laptop almost exclusively at home anyway, 17 inch devices are definitely worth a suggestion. My current recommendation for a laptop for image editing with a 17 inch screen is this Dell XPS 17. It's not cheap, but it offers good performance and is thus quite future-proof.
Include an external hard disk
Almost all of the laptops I recommend here have at least a 512 GB SSD installed. This is super fast and is sufficient for a certain amount of images. However, I would recommend an additional hard drive that you plug in every few months at home and move your finished images to it. I've been using WD MyBook disks for this for several years and have been very happy with them.
My recommendation for a calibration device
As written above, I highly recommend you calibrate the screen of your new laptop. This will give you accurate colors, brightness and contrast. This is the preliminary stage if you want to have your photos printed and have those prints look like they do on the monitor. For calibration, I recommend a Spyder 5 Pro.
Laptop for video editing and video editing
If you plan to use your laptop for video editing or video processing, then you should make sure that you have a powerful graphics card. This is even more important for video editing than for image editing. The Dell XPS 15 is also a good choice here.
Do you still have questions about laptops for image editing? Write me in the comments! If you want, I can also let you know when a new post is published, so you won't miss anything.