I show you what to look for when buying Sony a7 lenses and give you specific recommendations!
Sony a7 lenses: My personal recommendations
Below you will find my personal recommendations for Sony a7 lenses. These lenses are suitable for the following cameras:
Sony a7
Sony a7 II
Sony a7 III
Sony a7 IV
Sony a7R
Sony a7R II
Sony a7R III
Sony a7R IV
Sony a7C
Sony a7S
Sony a7S II
Sony a7S III
Sony a9
Sony a9 II
Sony a1
Sony FX3
For some lenses you will also find recommendations for alternatives. I update this list regularly.
All these lenses can also be used for the Sony a6000 series. A separate article with recommendations for the A6000, A6300 and A6500 can be found here.
Standard zoom: Sony FE 24-105 mm F4 G OSS
You probably bought a standard zoom lens in the kit with your a7. Maybe you are not satisfied with it. Or you just want to buy the camera body and a good zoom.
In any case, I can recommend the Sony FE 24-105 mm F4 G OSS. It has a continuous speed of 4.0 and comes with an image stabilizer. With a starting focal length of 24 mm, you've got a moderate wide angle with it. Likewise, you can zoom in to 105 mm. Thus, the lens can be used quite universally and is sharp over the entire focal length range.
Alternative: If you want more speed, you'll find a great reportage lens in the Sony FE 24-70 mm F2.8 GM. The focal length range is a bit smaller, but it has an aperture of 2.8 throughout. Partly because it works so quietly, it's one of the best Sony a7 lenses for video.
Telephoto lens: Sony FE 70-200 mm F4 G OSS
Whenever you can't get close enough to your subjects, a telephoto lens is necessary. The focal length range of 70 mm – 200 mm is interesting for portraits, for example, because the background becomes increasingly blurred. But these lenses are also used in sports photography.
The Sony FE 70-200 mm F4 G OSS serves exactly this focal length range. It also again has a consistent speed of 4.0 and an image stabilizer. In addition, the autofocus is fast and accurate.
Alternative: For more speed, you have to dig much deeper into your pocket. The Sony FE 70-200 mm F2.8 GM OSS has an aperture of 2.8 and is therefore a good recommendation for events like concerts.
Wide-angle lens for landscape and architecture: Sony FE 16-35 mm F4 ZA OSS
A wide-angle lens is interesting for landscape and architecture photography. You can better capture the size of the landscape with it. I use a wide angle for 95% of my landscape images.
Sony has some of the best lenses on the market. My clear recommendation is the Sony FE 16-35 mm F4 ZA OSS. In my test, it delivered super sharp images across the entire focal length range. It has a consistent starting aperture of 4.0, but that's quite incidental for landscape and architecture because many shots are taken from a tripod anyway. Nevertheless, it's good to have an OSS image stabilizer with you when you're wandering around the city without a tripod in search of new views.
Alternative: The Sony FE 16-35mm F2.8 GM delivers the same focal length range, but more speed.
Portrait: Sony FE 85mm F1.8
There are many focal lengths that can be considered for portraits. Some photographers like to use 50mm or 35mm, others prefer to take the telephoto lens mentioned above.
A very good one to start with is the Sony FE 85mm F1.8. it offers a starting aperture of 1.8, which makes the background blur wonderfully soft on an a7. It is also very sharp.
There is a certain hype around this lens, which is absolutely justified. Considering the quality, one can definitely speak of a good price-performance ratio here. The autofocus works almost silently and it is already sharp from f/1.8. It is also relatively small and offers great bokeh.
Macro lens: Sony FE 90 mm F2.8 Macro G OSS
Among macro photographers, focal lengths around 100 mm are popular. This is because you don't have to get quite as close to the subject as you would with 50 mm, for example, which could then flee in the worst case. On the other hand, you don't blur as easily with this focal length as with 180 mm, for example.
With the FE 90 mm F2.8 Macro G OSS, Sony has a great macro lens in its lineup. It's not exactly cheap, but it delivers outstanding quality.
Alternative: A slightly shorter focal length of 70 mm is provided by the Sigma 70mm F2.8 DG Macro Art lens. With an aperture of 2.8, it is also reasonably fast and sharp. It costs only about half as much as the Sony Macro, but does not have an image stabilizer.
Standard lens: Sony FE 50mm F1.8
What would photography be without a 50mm lens? It is said that this focal length is roughly equal to the vision of the human eye. Such a lens trains one's image composition immensely and can be used universally for many motifs.
Here, the Sony FE 50mm F1.8 is clearly worth a recommendation. It is relatively inexpensive. With a starting aperture of 1.8, it is very fast and yet small and light.
Alternative 1: If you want it to be quieter and a bit sharper, the Sonnar T* FE 55mm F1.8 ZA is worth a look. The price is much higher, but you get Zeiss quality for it. I've been using this lens for several months and have been very happy with it so far. It is razor sharp even at open aperture.
Alternative 2: The Planar T* FE 50mm F1.4 ZA offers even more speed and Zeiss quality.
Reportage and events: Sony FE 35mm F1.8
35mm is a very universal focal length that can be used for just about any photographic field. However, photographers especially like to use a 35mm lens for reportage and event photography.
When it comes to lenses for the a7 series, there is the Sony FE 35mm F1.8, which is very sharp while not being too big or too heavy. A good friend of mine who is a wedding photographer bought exactly one lens for her Sony a7 III – the 35mm F1.8. She shoots complete days with it and also uses it for portraits. For the optical performance, the price is very reasonable.
Alternative 1: If you absolutely need f/1.4, there's the Sony Distagon T FE 35mm F/1.4 Zeiss. This one is especially praised for its soft bokeh.
Alternative 2: Recently, the Sony FE 35mm F1.4 GM. This G Master level lens is the final stage in terms of sharpness among 35mm lenses.
Northern Lights and Night Photography: Sony FE 24mm F1.4 GM
For Northern Lights, a not-so-common combination of characteristics is called for. On the one hand, the lens should be rather wide-angle, because you also want to show something of the landscape under the northern lights. On the other hand, the northern lights are known to be in motion. If the exposure time is too long, the spectacle in the sky will blur too much in the photo.
The Sony FE 24mm F1.4 GM wide-angle lens from the G Master series combines exactly these two characteristics. With an aperture of 1.4, this fixed focal length is exceedingly fast. Despite 24mm, it hardly distorts at all and is super sharp. This lens is also my recommendation for stars and starry skies.
Alternative: The Sony FE 16-35mm F2.8 GM mentioned above offers even more wide angle at a starting aperture of 2.8.
Safari lens: Sony FE 200-600mm F5.6-6.3 G OSS
As a lens for safaris, the telephoto lenses mentioned above are often not enough. Often you can't get close enough to the animals or don't want to scare them away.
An expensive but really great lens for this is the Sony FE 200-600 mm F5.6-6.3 G OSS. With a focal length of 200-600mm, you can zoom in close to the animals and capture a lot of detail. It's not insanely fast, but it does bring an image stabilizer in the form of OSS. The autofocus is accurate and the handling is just right.
Whether you want to photograph animals on safari or birds at home, this lens is a good recommendation.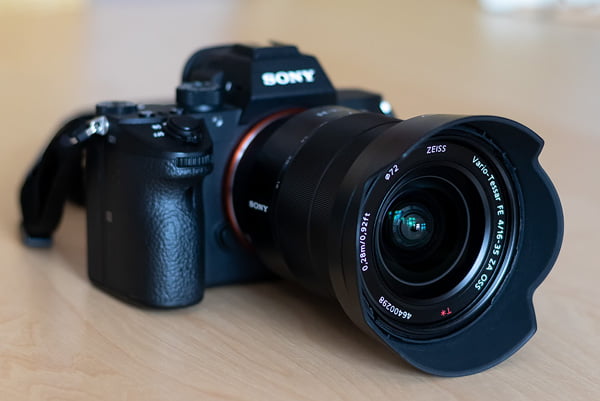 What should you look for when buying lenses for the Sony a7?
Focal length – What subjects do you want to photograph?
When you're shopping for new lenses for your Sony a7, the first thing you'll decide is the focal length. Do you want a wide angle lens, a normal lens or a telephoto lens? You can classify the focal lengths roughly like this:
Wide-angle = 12-35 mm
Normal focal length = 50 mm
Telephoto range = 80-1000 mm
Each focal length has its own characteristics. With a wide-angle lens, you capture a large section of the image. With a normal focal length you are very universal. A telephoto lens is suitable for more distant subjects that you can't get as close to.
There's a good way to figure out what focal length you need. Look at your favorite pictures you've taken yourself over the last 2 years. Often it's relatively clear here whether you used more of the wide-angle or telephoto end of your previous standard zoom lens, for example.
It can be equally helpful to look at what focal lengths your favorite photographers work with.
Zoom or fixed focal length?
Now it's time to decide on a zoom lens or a fixed focal length.
With a zoom lens, you have a variable focal length, that is, a variable image section. For example, this can be a focal length of 28 mm to 90 mm. So at 28 mm you have a more wide-angle shot, while 90 mm is more in the light telephoto range.
A fixed focal length, on the other hand, has only one fixed angle of view, depending on the focal length. A good example is a 50 mm lens. To capture your subject larger, you need to get closer.
Now you may be thinking, why do people use fixed focal lengths at all when zoom lenses are so much more flexible? Couldn't I save myself three fixed focal lengths and just buy one zoom lens instead?
Fixed focal lengths are usually faster and sharper. I'll explain exactly what speed means below. In a zoom lens, several lenses have to be shifted against each other as soon as you zoom. The calculation for this is complicated. Modern zoom lenses offer great image quality. In a lens with a fixed focal length, the lenses have a fixed arrangement. This makes the calculation and construction much easier. That's why fixed focal lengths are almost always sharper than zoom lenses.
By the way, in my free e-book you can find tips on how to get more image quality and better sharpness out of your photo equipment.
Another important aspect is that with a fixed focal length you are more actively involved with the composition of the image. You put more thought into the image. This ensures that your photography improves.
Don't buy soup zooms
If you decide to buy a zoom lens, I recommend only one rule of thumb:
The final focal length should be no more than four times the initial focal length.
This way, the zoom lens can deliver good image quality.
For a 28-90 mm lens this means: 90 / 28 ~= 3.2. The value is smaller than 4. This lens can probably deliver a good image quality.
For a 28-200 mm lens this means: 200 / 28 ~= 7.1. the value is greater than 4. the image quality of this lens is probably not optimal.
Lenses like a 28-200 or a 28-300 mm are colloquially called soup zoom. Because the sharpness of the lenses is more like soup.
It's tempting to have just one lens and not have to change. But do you spend €2000 on a camera only to get the image quality of a €200 compact camera?
Luminosity – without tripod and with bokeh
How much light falls on the camera's sensor is defined by the lens. To put it simply, a fast lens has a larger aperture.
What does this mean in practice? You are more likely to be able to take pictures without a tripod without blurring. Also, the out-of-focus area is larger and softer. This can be interesting if you want to take portraits. Then light intensity is useful. But if you are photographing landscapes, for example, then you usually want everything to be sharp. Then you don't necessarily need a fast lens.
A small f-number means a higher light intensity. A larger f-number means less light intensity. If a lens has an aperture of 1.4, then it is faster than a lens with an aperture of 5.6.
Fixed focal lengths are usually faster than zoom lenses.
Sharpness – the most important argument
This point sounds obvious. Everyone wants sharp lenses and images. For me, sharpness is often the central argument when choosing new lenses. If you often make larger prints of your images, then this aspect plays an even bigger role, of course.
In lens tests such as Dxomark, you will often find information on sharpness in the form of MTF data (MTF stands for Modulation Transfer Function, a mathematical evaluation). These numbers can be used to compare the sharpness of lenses. More information about MTF curves can be found here and here.
Image stabilizer – shooting handheld without a tripod
If you like to shoot without a tripod, then you should look for an image stabilizer when buying your new Sony a7 lens. With it, you can shoot in low light without shaking. With Sony lenses, you can recognize the image stabilizer by the designation "OSS" in the name. OSS stands for "Optical Steady Shot".
Size and weight – Do you transport your equipment often?
Do you travel a lot? Or do you shoot more in your local area? The size and weight of your new lens can play a role here. As a landscape photographer, I tend to prefer light and small lenses. When I go hiking and take my photography equipment with me, I prefer it to be lighter. That way I can be out for longer without it becoming cumbersome and me losing my desire.
Provided the sharpness is the same, I'd rather take a less fast light lens than a fast heavy lens.
Filter thread diameter – plan for the long term
Do you also photograph landscapes? Here filters are used from time to time. Maybe you already have filters and want them to fit on the new lens. In this case, it is worthwhile to take a look at the size of the filter thread diameter before buying.
Tip: In the long run, it has turned out to be the best variant to buy the filters in the size which lens in your own equipment has the largest thread. To then use the filters on other lenses, step up rings are used.
Choose the right lens mount: Sony E-mount
The Sony a7 cameras have a Sony E mount, also called Sony E-mount. These are full-frame cameras. These are the two issues to pay attention to. With Sony's own E-mount lenses, you can recognize these lenses by the "FE" designation.
E-mount lenses for cameras with the smaller APS-C sensor will not work on the Sony a7 series because the image circle is too small. You would then get images with dark or black corners. Sony A-mount lenses will not work either.
Did you find what you were looking for? Which lenses for the Sony a7 series can you recommend? Write me in the comments! Also, if you want, I can give you a quick shout out every time I post something new, so you won't miss anything.