What can the Sony FE 16-35 mm F4 ZA OSS do? I tried it out in the review for a full week!
How did the review come about?
Recently, I tested the Sony A7 III. For this test period, I had chosen the Sony FE 16-35 mm F4 ZA OSS as the lens. Should I switch to the Sony system, this would be my lens of choice in the wide-angle range.
I primarily shoot landscapes and architecture. 90% of my images that make it into the portfolio are taken with a wide-angle lens. You can read about the equipment I currently use under recommendations.
I had the Sony FE 16-35 mm F4 ZA OSS at my disposal for one week and tested it extensively during this time.
Key data of the SEL1635Z
Connection: Sony E-Mount
Focal length: 16-35mm
Speed: F4
Image stabilizer: Yes
Sealed: Protected against dust and splashing water
Minimum distance: 0.28 mm
Weight: 518 g
Filter thread: 72 mm
Scope of delivery: Lens, lens cap, bayonet cap, lens hood ALC-SH134, lens case
Size, weight and build quality
The 16-35 mm is very solidly built and weighs in at 518 grams. For a full-frame wide-angle lens, it has a normal size. The weight is also average. As a comparison, the Canon EF 16-35mm 4.0 L IS USM weighs 615 grams. When unpacking, you notice that the manufacturing quality is on a high level. Nothing wobbles or has play. The lens barrel extends a bit depending on the focal length.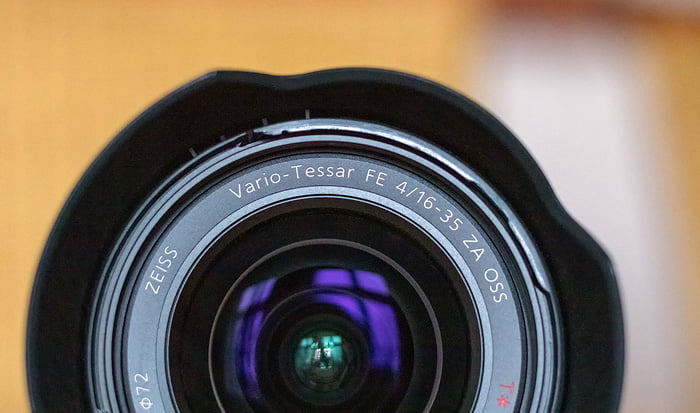 No switches for autofocus and image stabilizer
For long exposures from a tripod, I turn off the image stabilizer so it doesn't blur the shot. Likewise, I autofocus without the ND filter (gray filter) screwed on, then switch to manual focus and put the filters on. That way the camera doesn't try to focus again when the filters are already on.
The Sony FE 16-35 mm has no switch of any kind. Disabling autofocus or image stabilizer has to be done through the menu. At first glance, this is a bit awkward for me as a Canon user. However, I'm sure you'll get used to it pretty quickly.
Image quality
Sharpness
The most important criterion for me is sharpness. Here, the SEL1635Z cuts an excellent figure. From the center to all corners, the images are extremely sharp. I have yet to try a sharper wide-angle lens. Below you'll find some 100% image crops to form your own opinion. The pictures were taken with f/8.
One thing I can say in advance: The FE 16-35 mm is also among my recommendations for Sony Alpha 7 lenses.
Colors & Contrast
The colors are very natural. There is practically no difference to the colors coming out of my Canon EOS 77D. The contrast is just as good.
Chromatic aberration
The Sony 16-35 mm shows very slight chromatic aberration in purple at the outer corners even after automatic correction. However, these could be corrected without any problems by clicking on the corresponding slider in Adobe Camera RAW.
Sample images
Below you will find four images taken during my review.
Which cameras is the Sony FE 16-35 mm F4 ZA OSS suitable for?
The SEL1635Z can be used with all crop and full-frame cameras with Sony E-mount. This includes for example:
A6000
A6300
A6400
A6500
A7
A7S
A7R
A7 II
A7S II
A7R II
A7 III
A7S III
A7R III
Conclusion of my Sony FE 16-35 mm F4 ZA OSS review
I'm really excited about the SEL1635Z. It is crisp and sharp across the board. As written above, it is the sharpest wide angle lens I have used. The only thing I would like to see is a switch for autofocus. Other than that, it's the perfect wide angle lens for me.
Update 01/31/22: I'm still using the lens after a year now and am very happy with it.
> All lens reviews and guides