Today there is my Canon EF-S 35mm f/2.8 Macro IS STM review. I took a look at the macro lens especially regarding sharpness and the LED ring.
How did I end up buying the Canon EF-S 35mm f/2.8 Macro IS STM?
Canon recently released the EF-S 35mm f/2.8 Macro IS STM. For a macro lens, this is a very short focal length. To achieve a 1:1 reproduction scale, you have to get close to your subject. Many insects will take to their heels. The lens is therefore more suitable for subjects that do not flee quickly. A nice side effect of the shorter focal length is that the depth of field is greater than with the usual macro lenses, which are around 100 mm.
A special feature of the Canon EF-S 35mm f/2.8 Macro IS STM are the LEDs at the front end of the lens. This allows the subject to be illuminated. Especially in situations in the forest, it often happens in macro photography that the actual subject is relatively dark and the background is too bright. This is exactly why I found it exciting that Canon has released such a lens with its own illumination. So when it was on sale during Amazon's Spring Week, I snapped it up.
Canon EF-S 35mm f/2.8 Macro IS STM review
The most important technical data & scope of delivery
Here are the most important technical data of the Canon EF-S 35mm f/2.8 Macro IS STM:
Focal length: 35mm
Lens speed: 2.8
Image stabilizer: Yes
Focus motor: STM
Connection: Canon EF-S
Magnification: 1:1
Weight: 190 grams
Special feature: LED ring light
For Canon otherwise rather untypical with EF-S lenses, the lens hood is included this time. Front and rear covers are also included, of course.
Size, weight and feel
The EF-S 35mm is barely larger than the Canon EF 50mm 1.8 STM. The build quality is on the same level. As a result, it is pleasantly small and light, and together with my Canon EOS 77D, it feels good in the hand. Thanks to the image stabilizer, you can also try handheld photos without a tripod.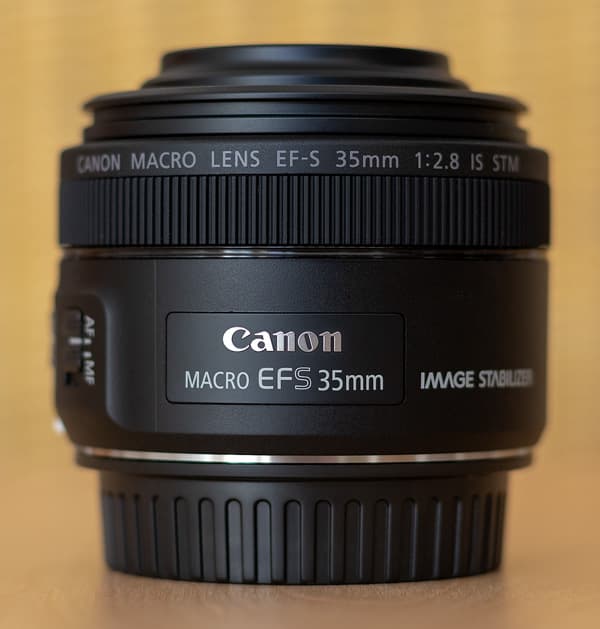 Sharpness, colors and contrast
Here the Canon EF-S 35mm f/2.8 Macro IS STM is almost on the same level as the Canon EF 50mm 1.8 STM. For me, the 50mm is the reference in terms of sharpness on APS-C cameras. The 35mm is already good at 2.8, at aperture 4.0 and especially 5.6 it can show its full quality. Colors and contrast are also very pleasing to me.
LED ring
Now for the most exciting part. It sounds very tempting to simply brighten up your subject using the LED ring. The LEDs can be operated at full and half brightness. It is also possible not to turn on all LEDs, but only the left or right ones. To show the effect, I photographed the same subject without LEDs, with half brightness and with full brightness. Unfortunately the pictures are slightly blurred, but it is sufficient to judge the illumination of the LED ring.
Which result I like is, as always, subjective.
The idea of the illumination I find basically good. However, the following problem arises: the light of the LEDs has a certain color. From the gut I find it relatively neutral white. However, the subject is almost always illuminated by another light source. This light source almost never has the same color. Different light colors within a picture can be corrected only with difficulty by means of white balance. So a part of the image has a color cast. I do not like this circumstance. On the other hand, it can be used specifically as an effect and taken into account with regard to the final image.
Accuracy of the autofocus
During my test period of about 2 weeks, I did not take a single picture with the autofocus where the focus did not hit. To be fair, though, I took a lot of macro shots from a tripod using manual focus. For the pictures taken without a tripod, however, the AF is absolutely spot on.
What cameras does the EF-S 35mm Macro work on?
The Canon EF-S 35mm f/2.8 Macro IS STM works on all Canon crop cameras. For example, these Canon EOS cameras include:
2000D
4000D
1200D
1300D
100D
200D
250D
600D
650D
700D
750D
760D
800D
40D
50D
60D
70D
77D
80D
7D
7D II
Example images
Here are three sample images I took during my test period. All were taken with my Canon EOS 77D.
Alternatives to the Canon EF-S 35mm f/2.8 Macro IS STM
What are the alternatives to the Canon EF-S 35mm f/2.8 Macro IS STM? If you deliberately want to stick with a short focal length, these two lenses are still worth considering:
Canon EF 50mm f/2.5 Compact Macro
Canon EF-S 60mm f/2.8 Macro USM
You can find more details about the second lens in my Canon EF-S 60mm f/2.8 Macro USM review.
Conclusion of my Canon EF-S 35mm f/2.8 Macro IS STM review
I personally liked the Canon EF-S 35mm f/2.8 Macro IS STM. It's light, small, and exceedingly sharp. I won't use the LED ring as much because of the color issue mentioned above. However, I also find 35mm to be a very comfortable focal length. During my review, I also shot with it frequently in the woods without it being macro. In doing so, I felt very comfortable with this framing.
This post is part of my lens reviews.