After shooting a lot with wide angle, I recently looked a bit more towards telephoto, also regarding landscape photography. That's why today we have the Canon EF-S 55-250mm f/4-5.6 IS STM review.
Why actually a telephoto lens?
In landscape photography, there are always subjects that you can't get close to. A telephoto lens can also be used to create image compositions that compress multiple layers, creating images that would not be visible to the human eye in this way.
Since I sometimes get a little stuck on composition with my wide-angle images, I recently bought the Canon EF-S 55-250mm f/4-5.6 IS STM.
Another incentive were the images of my colleague Kilian Schönberger, who relatively often works with a telephoto lens. American Alex Noriega is also photographing with it more and more, and shot the winners of the 2016 Landscape Photographer of the Year award with a telephoto lens. Meanwhile, I've published another separate article with my recommendations for this type of lens: Canon Telephoto Lens.
Why the Canon EF-S 55-250mm f/4-5.6 IS STM?
An unbeatable argument for this lens is the price-performance ratio. For under 200 Euros, you can get a telephoto lens that can compete with many more expensive lenses in terms of sharpness. More on this in a moment.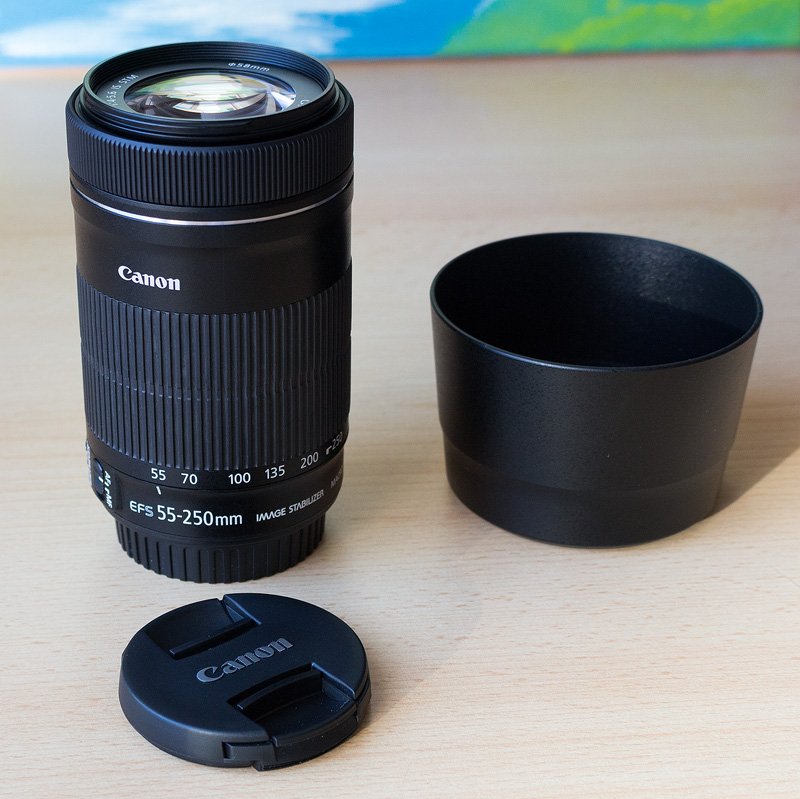 Feel and build quality – Solid, small and lightweight
The external quality of the Canon EF-S 55-250mm f/4-5.6 IS STM is okay. This is where you notice the price a bit. That's not to say that anything wobbles. Everything fits very well.
Newsletter Lead 3 – New PostsParticularly great: the lens is very light for a tele at 375 grams. As a landscape photographer, I appreciate that especially on longer trips.
In combination with the lens hood, it's not exactly small, but it's still smaller than many of its colleagues such as the 70-200 F4 IS.
Impressive sharpness
As indicated above, I was very impressed with the sharpness. The Photozone review also shows this. Finally, an affordable telephoto lens from Canon! I would even go so far as to say that I would rather take it than a 70-200 F4 IS, because not only does it have similar sharpness, but it is also much lighter.
Autofocus speed normal + Good image stabilizer
The lens comes with an STM motor, which I already know from my 18-55mm. There it is blazing fast, felt even faster than USM. On the Canon EF-S 55-250mm f/4-5.6 IS STM, the focus is not super fast, but perfectly fine.
When shooting handheld, the image stabilizer is a blessing. It catches about 3-4 stops. So, for example, you can still shoot at 1/50 second at 200mm without shaking. I would practically never buy a telephoto lens without an image stabilizer.
Example images
So far, I have been able to review the lens at the Teufelsmauer in the Harz mountains and in Saxon Switzerland. In addition to the images above, here are more sample images:
Lens for Safaris?
I get the question from time to time whether the EF-S 55-250mm IS STM can be recommended as a lens for safaris. Generally, in wildlife photography, the subjects are sometimes further away. That's why many wildlife photographers use focal lengths from 300mm upwards. So, with a final focal length, you may not get the animals big enough on it. In the end, it's also a question of budget whether you want to buy another lens for the safari. My recommendation with a good price-performance ratio (for this focal length range) is the Sigma 150-600mm F5.0-6.3 DG OS HSM Contemporary. It is available for Canon, Nikon and Sigma connection.
My conclusion to the Canon EF-S 55-250mm f/4-5.6 IS STM review
The Canon EF-S 55-250mm f/4-5.6 IS STM is a great lens, which really excited me. Particularly good: sharpness, image stabilizer and the pleasantly light weight. The price-performance ratio puts the crown on the whole thing. Thick recommendation!
Are you looking for recommendations and reviews of other Canon lenses? On my page about Canon lenses, I have listed all the articles I have written about them.
> All lens reviews